avril 2019
Verlet X Les Bâtons
Delicious little handmade Kenyan coffee caramel sticks for spring: an exclusive partnership between Verlet and the young French confectioner, Les Bâtons.
Passionate about original flavours, Edward Van Houtte decided to revisit the Carambar, a much loved chewy caramel candy from childhood. After using tonka beans, sea salt, passion fruit and lemons, Edward's latest creation, an exquisite coffee caramel stick is exclusive to Verlet.
In his laboratory in Normandy, Edward explored and tested to chose the perfect coffee to enhance the caramel. Bourbon Arabica from Kenya, unique and delicate with subtle acidic wild redcurrant and blackcurrant notes blended marvelously with the delicate toffee.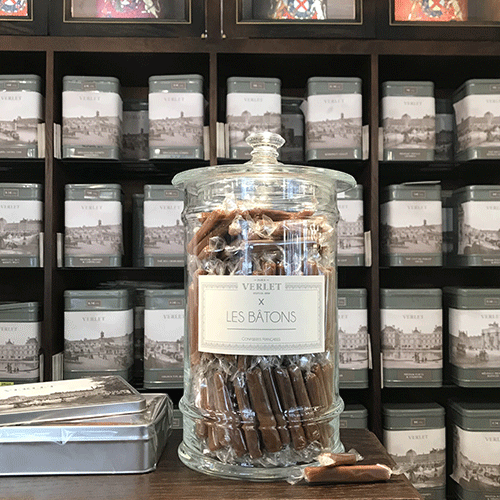 100% made in France, using just milk, fresh cream, sugar, a pinch of sea salt and of course our Kenyan Bourbon Arabica, the caramels are cut and wrapped individually by hand.
Discover Verlet x Les Bâtons caramels exclusively at Verlet, 256 rue Saint-Honoré. 
chevron_leftReturn to news